Natural Remedy For Constipation

Dr. Schulze's Intestinal Formula #1
My father (at 89 yrs old) had chronic constipation for at least ten years. Tried everything over the counter and even went to the doctors and tried all their prescriptions. Nothing worked and the doctors said nothing else could be done. They told him he was going to be like so many other elderly people with the same problem and had to just deal with it the rest of his life. Just deal with it? Not true…
Not true, Dr. Schulze's Intestinal Formula #1 rocks. This is the only product that helped. Not just help but, he was able to have a healthy bowel movement shortly after each main meal. Yeah, the rest of his life he had 3 healthy bowel movements a day and was only in the bathroom a few minutes. He even stopped taking something with him to read. This natural remedy for constipation, an organic and wildcrafted herbal product, gave him regular bowel movements the last 4 years of his life.
Ten years of his life having 1 bowel movement a week and he had to use enemas. The smell was terrible and all the discomfort he went through. All the money spent on every prescription, stool softener, and laxative made and the doctor visits. Being told by doctors to live with it. If only we could have found it years earlier it would have made his quality of life so much better.
Natural Remedy For Constipation
Dr. Schulze's Intestinal Formula 1
Natural Remedy For Constipation Ingredients
The ingredients in Dr. Schulze's Intestinal Formula #1, a natural remedy for constipation are ~ Organic and wildcrafted herbs: Caracao and Cape Aloe leaf, Senna leaves and pods, Cascara Sagrada aged bark, Jamaican Ginger rhizome, Barberry root bark, Garlic bulb and Habanero peppers. Placed in vegetarian capsules which contain Cellulose, a vegetable plant fiber that the capsules are made from.
You can get – Dr. Schulze's Intestinal Formula #1 ~ here at Amazon.com
How To Determine The Proper Dose Natural Remedy For Constipation
How to use it – This isn't a product where the dose is the same for everyone. You have to determine the dose by the results you get. This is how you do it. Right after your main meal of the day (this is usually dinner later in the day or early evening) you take one capsule. If your get up the next day and have a great bowel movement, it will be a wow moment, you'll know what I mean when it happens.
When you have your wow moment it will start easily, without urgency and everything thing will evacuate in about a minute or two, you probably have the correct dose. If nothing is changed or you just get some grumbling and have a bowel movement where you have to sit and wait or go but still have some stool retention you need to increase the dose by 1 capsule.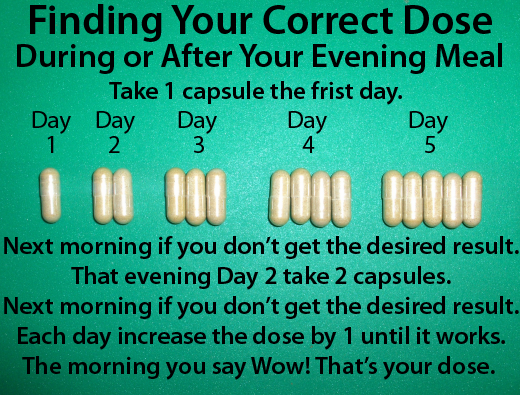 If you don't get the result we want the first day, the 2nd day after the main meal you would take two capsules. You increase the dose by one capsule each day until you have you're wow moment. Keep going until it happens, don't give up.
Once you know your dose, take that number of capsules each day after your main meal. As time goes on you will be able to reduce the dosage. Remember, your bowel will take time to strengthen and become responsive, the condition you're in didn't happen overnight. Also, don't believe people that say you should not use this because you will become dependent on it. Not true.
As your bowel gets stronger and healthier you will be able to use less and eventually not need it at all or perhaps one capsule once in a while. That's right, you heard it right. If you use this natural remedy for constipation, over time, you can start to reduce the dose. Not only that, you will get to the point where you probably won't need to take it daily.
What To Expect When Using A Natural Remedy For Constipation
What to expect when you start taking Dr. Schulze's Intestinal Formula #1. First, don't give up, this will work for you. Everyone needs to figure out their proper dose. Know that in extreme cases you may need to take quite a few capsules to get your wow moment. Only increase your dose one capsule a day.
Why only increase the dose by one capsule a day? When you first start taking this natural remedy for constipation you will probably experience some occasional minor cramping because your bowel hasn't been contracting as often or as strong as it should. It's like going to the gym when you're out of shape and your muscles get sore. This will stop not long after you start having regular bowel movements.
Why else? If you think you are smart enough to guess what your dose should be you might get more than you bargained for. If your first dose is too high you will experience more cramps. It won't harm you but you will think twice the next time you take a dose. You will know what it's like to be jet propelled so make sure you fasten your seat belt. If your toilet doesn't have a seat belt wear a helmet. Better yet, follow the instructions.
Who Benefits From A Natural Remedy For Constipation
This benefits everyone, the average person, seniors, the elderly, caregivers and the person with Alzheimer's disease. It's not just for extreme chronic constipation. Ideally you never want it to get that bad.
Strange that people take antacids at the drop of a hat but when the food is on the way out of the body and causes discomfort or problems people ignore it. Does this sound like you? Think about it, elimination is probably one of the most important body functions.
If you're a caregiver this will get you out of the bathroom quick and back to your duties. Nothing worse than the caregiver being stuck on the toilet wondering what is happening, where are they, what was that noise. Plus you'll be healthier.
It is true that you can become dependent on over the counter and prescription solutions you buy in the drugstore made by pharmaceutical companies. You can become dependent on those kind stool softeners and laxatives. If this has happened to you, this natural remedy for constipation, may be your ticket back to a normal life and healthy bowel movements.
How Does A Healthy Bowel Act
Ideally, if your bowel is working properly, you should have a bowel movement 30-40 minutes after you eat a meal. When this is happening the meal you ate yesterday is coming out today. That's a transit time (from the time food enters until it leaves the body) of less that 24 hours. Another thing to watch is the stool. It should not be hard or made up of marble like pieces. The stools should be long semi soft extrusions with a consistency something like peanut butter. Depending on what you eat it will vary.
Once the bowel movement starts everything should completely evacuate in minutes. There should be no stool retention. Stool retention is when not everything comes out, no matter how long you try or how much you push. You may feel not everything has come out and this feeling often quickly fades away. You may not have a physical sensation. Your only clue may be when you wipe yourself with toilet paper and no matter how many times you wipe you need to wipe again and again and again. When your bowel is working correctly there should be nothing left behind.
Our Experience Using A Natural Remedy For Constipation
When Dad started using this natural remedy for constipation he knew something was happening on day 5 after taking 4 capsules the night before. He said he could feel some movement and was hearing gurgling sounds that felt like they were coming from his lower stomach. When this happened, you could tell it was the moment he started to believe, it was going to work.
But he had to wait because he only had enough for 4 doses, starting with 1 capsule and increasing by 1 capsule each day to day 4. The person that told us about this natural remedy for constipation gave him 10 capsules to try. That last dose had let Dad feel something happening so he ordered some right away. How lucky was that. If he didn't feel anything after taking those 4 doses it might have been hard to convince him it was worth buying it.
When the natural remedy for constipation he ordered came a few days later he started where he left off. He took the Day 4 dose of 4 capsules. Just like before he felt some movement and the gurgling started again. 5 capsules was the charm. He finally had his WOW moment!
You can imagine the excitement and relief, after 10 years of severe chronic constipation, what having a normal bowel movement was like. It was life changing. Not just for him but for everyone living in the house. Over a period of time he was able to reduce his dose to 2 capsules a day.
I decided to take it also. I was already going once a day but but sometimes experienced stool retention. Stool retention is when everything doesn't come out and a little remains in your sigmoid colon. You then need to return later and finish the bowel movement or worse, wait until your next bowel movement.
To get things working the way I wanted I had to take 2 capsules to start. After about a year I was able to reduce the dose to one capsule a day. Eventually I was able to stop taking it daily and now I only take one if I think I will need it, which is rare.
You can get this Natural Remedy For Constipation at Amazon.com