Missing Missouri Woman Hellen Cook
Has Alzheimer's And Needs Your Help!
UPDATE: Hellen Cook Has Been Found – I am sorry to report she was not alive. They found her on August 11th. She had been missing 29 days.
Hellen was last seen on Saturday July 13th 2013.
She is still missing as of August 2013.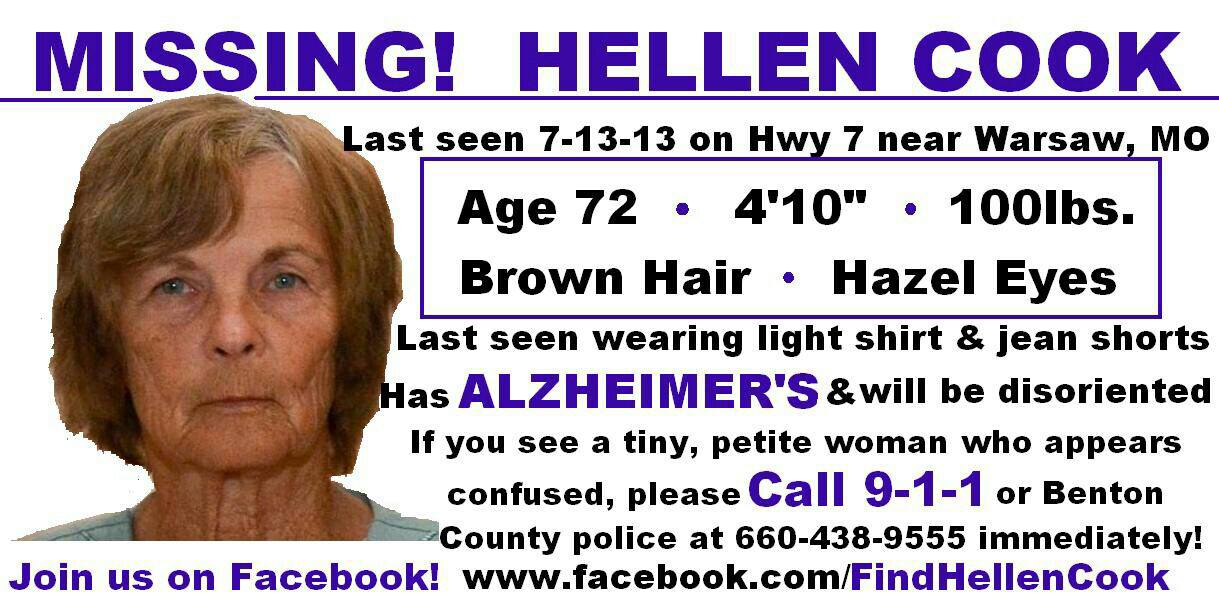 Click Here To View Full Size Poster
The above link will open the full size image in a new window or tab. You may download this image to print your own flyers. Just right click on the text link above and select "Save Link As" or "Save Target As" (depeneding on your browser).
The search remains both local and national because dogs tracking Hellen lost her scent on a highway. It is possible she got into a vehicle and could be anywhere. Hellen has Alzheimer's disease. She will be confused, have difficulty communicating and has NO ID with her so a picture may be the only way to identify her. Please help if you can!
Basic Details
Hellen wandered off from the family Lakeside home near Warsaw, Missouri
Last known location: Last seen around 11:30 AM on July 13th 2013 near Walnut Grove and Hensley Rd near Warsaw, Benten County, Missouri near Hwy 7. There have been no confirmed sightings beyond that initial 4 mile walk.
Hellen was wearing: Light colored T-shirt, jean shorts and tennis shoes. Carrying walking stick and boots.
Description: Caucasian female, 72 years old, 4 ft 10 inches, 97 lbs, hazel eyes, and her hair is short, straight, and brown with gray roots.
Family believes Hellen may be walking toward Buckner, MO (main residence 100+ miles from lakeside home near Warsaw). She is an avid walker and has been known to walk a considrable distance.
Hellen has been without medication and may be confused, disoriented, have difficulty communicating, and answer to Hellen Cox.
She has difficulty speaking so simply smiles frequently.
She loves yard work and therefore has a nice sun tan.
She has been 20+ days without her medications so she will be disoriented and in her own little world.
She may be seen pulling weeds or browsing a garage sale and responds to Hellen.
Hellen had no identification info with her.
If you have any information about Hellen Cook's whereabouts, you're asked to contact the Benton County Sheriff's Department at 660-438-6135 or call 911 immediately.
Find more information regarding the "Find Hellen Cook" search efforts on Facebook –
https://www.facebook.com/FindHellenCook
They just started using Twitter and you can "Follow" here –
https://twitter.com/FindHellenCook
To volunteer email FindHellenCook@gmail.com and/or message the Facebook page listed above.
Hellens Hero: Find Missing Mo Woman – Hellen Cook
by Carly Kardoulias
It appears Hellen walked out the driveway, climbed over a gate (where Hellen's sweater was found) that blocks the driveway at the road and headed toward Missouri Highway 7.
On July 25th 2013 a large search was conducted in the Warsaw area in which 1 pair of shoes, 2 pair of her boots, scarf, and red hat were found around a large pond (she constantly carried random items with her). 5 divers explored that pond (she was NOT found in the pond). Search dogs surrounded that pond (the dogs could only find one scent trail in the pond area which may have been used to enter and exit also). The pond is near Walnut Grove Road and Hensley Road in Benton County, and is southwest of Warsaw, Missouri. Still no further sign of Hellen.
Map of Walnut Grove Road and Hensley Road.
The pond is partially hidden by map marker
On August 4th the Army Corp of Engineers started draining the pond to make 100% sure Hellen isn't there. They say it will take several days to drain the pond. This pond was already scheduled to be drained later this year.
Pond being drained in search for missing woman.
Dogs tracked Hellen Cook as far as Cold Springs Avenue and M-7 where they lost her scent. It is still possible that someone gave her a ride (a possibility since the dogs lost her scent on a highway). Benton County Police speculate Hellen may have gotten into a car at that location. This is just speculation since no one has reported seeing her get into a vehicle.
Support Team Hellens Heroes – Walk To End Alzheimer's
In honor of Hellen Cook and her love of walking and to end Alzheimer's, Hellens Heroes has created a team for the October's Walk to END Alzheimer's in Kansas City, MO 10/06/2013. To Donate or Join go to…..
Click on "Donate to My Team"
Click on "Join My Team"
Register to walk with us! Team Captain: Diana
Mission Statement
This event for this team holds two purposes. One to honor Hellen and one to help find an end to Alzheimer's.
During this walk you will be honoring Hellen by participating in one of her favorite past times, something Alzheimer's could not take from her. You will also be honoring Hellen by helping to fight this life altering disease. Due to this disease Hellen wandered away from her family and loved ones on 7/13/13. As of this posting (8/2/13), she has yet to return to their loving arms.
During this walk we hope to bring more attention to the devastation caused by a wandering loved one with Alzheimer,s. We hope that no other family will need to suffer through the horror of a missing loved one. Join us in the walk and help to bring an end to Alzheimer's disease!
There is also an Event Page on Facebook at –
FIND HELLEN COOK UPDATE: Day 26 – August 8th Update
Today, the officials obtained video from Walmart for the July 13th, the day Mom went missing. We are trying to pinpoint her movements that day to determine if she visited this pond where her shoes, hat, and scarf were found before she continued her walk to Highway 7 and got a ride, OR if she got a ride into town and then came back later to the pond.
The answer to this question would send our search efforts completely into a national search (she got in the car with someone after the pond) OR into a localized search (she visited town and then came back to the pond). We speculated that if she went to town, she would have gone to Walmart as she had been trying to get there all morning.
Family viewed video from noon till evening of that day and did not see Mom on the tape. So we have no answer meaning we still don't know when she got in the car. We will, as a result, continue both arms of our search; the national and local search must continue.
Locally:
The pond is still being drained. Levels aren't low enough for the officials to rule out her presence in the pond.
A Cadaver dog is returning Sunday to finish the search started last week, but interrupted by weather. This will be his third trip, the first two were interrupted by severe rain.
Strikeforce5, a professional search team from St. Louis with their own dogs and search strategies, will be coming August 15.
Nationally:
Our Facebook campaign continues with thousands of hits – every state participating.
Hellen's Heroes t-shirts were created for sale to general public. Proceeds will be used to fund the FindHellenCook (?Might have meant FindHellenCook Alzheimer's Walk) and donated to the Alzheimer's Association.
A booth has been secured at the Missouri State Fair to pass out Hellen Cook business cards and information about Alzheimer's disease.
The family continues to look and be hopeful that we will find her. We sincerely, and from the bottom of our hearts, appreciate your support in keeping her face in the public and helping us to continue pressure on the search. If we find our grandmother, it will be due to the help from our friends in the press and our many volunteers. I also appreciate the many kind words given to us throughout this journey. Again, our sincerest thanks.
Join us on Facebook: FIND HELLEN COOK
FIND HELLEN COOK UPDATE: Day 28 – August 10th Update
Search efforts continue.
The special dog from Kansas City remains in the woods today. The draining of the pond has been paused due to weather, but it is anticipated that the draining will commence on Monday. Strikeforce5 has moved their ETA up and will be arriving tomorrow with teams of professional searchers and dogs. The local search remains strong. Darolyn Cook Fagg is in the Warsaw area monitoring all efforts.
Family has ordered a large banner and 1500 business cards with Hellen's description and webpage on them in preparation for the both at the Missouri State Fair this Wednesday. T-shirts have been made in hopes of catching the public's attention and keeping Hellen Cook in everyone's thoughts.
The family is also working with local businesses to fund raise for the Walk to End Alzheimer's in hopes that a cure for Alzheimer's will be found and another family won't have to go through this.
We thank everyone for their support,
The Cook Family
Join us on Facebook: Find Hellen Cook
Nothing official yet but I'm seeing some stuff pop up in the news feeds. What is being described as "remains" were supposedly found in the area of the pond where some personal things were found some time ago, on July 25th. Strange, this was just discovered because the pond area had been heavily searched. Officials, volunteers, scent tracking dog team and a cadaver dog (trained to find human remains). According to the Benton County Sheriff, the remains found Sunday were 100-150 yards from the pond where her belongings were found on July 25.
UPDATE: HELLEN MAY HAVE BEEN FOUND – August 11th
Thank you all for your help and support the last 29 days. The family will change some of the campaign based on the results of the DNA test. We thank everyone again for all their help and support and especially thank the news for your continued coverage. Hellen has been an example of the dangers of Alzheimer's and the awareness she has provided will hopefully save future families from going through this. We love and thank all our family and friends- COOK FAMILY.
Please Use The Share Button Below To Help Spread The Word About Hellen Cook And Alzheimer's Disease.